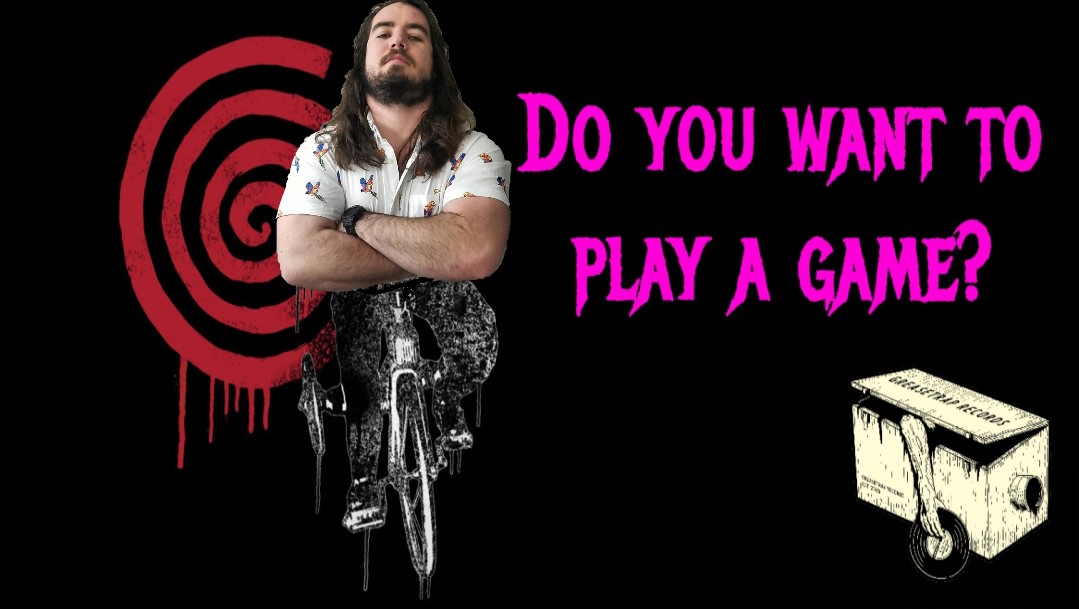 STANDINGS (as of 3/22/2023):
*Complete Standings at End of Page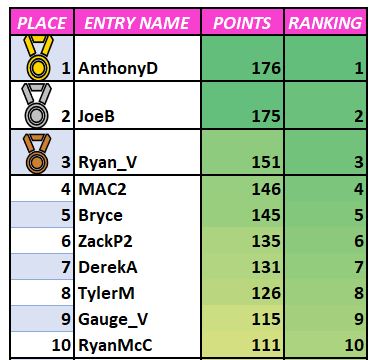 Description
:
There are 4 states that Greasetrap Records has not sold an item to. To enter the contest, you will submit a list of your guess of the chronological order the states will be "crossed off" (purchased an item). Number the list 1-10, with 1 being the state you guess will be the first on the list to purchase an item and 10 being the last. You receive points based on how close your guess ends up being to the actual order. The contest ends once GTR has sold an item to someone in all 50 states. A scoring update will be announced via Instagram every time a new state is crossed off the list. The states to guess from are the following:
MS
AL - N/A as of 10/16/22
SC - N/A as of 10/17/21
NM - N/A as of 10/11/21
KS - N/A as of 3/12/23
DE - N/A as of 1/13/22
HI
AK
WV - N/A as of 10/24/21
MT
UT - N/A as of 10/13/21
Entry fee:

$5 per entry (max of 3 entries per person)
Prizes:
1st place:

$100 GTR Gift Card
GTR Sweatshirt
Lifetime 10% discount code to GTR
Picture placed on the Grease of Fame

2nd place (first loser)

$50 GTR Gift Card
GTR Sweatshirt
Picture of pet (Absolutely no kids) placed on the Grease of Fame

3rd place (millennial participation trophy):

$20 GTR Gift Card
GTR Swag Bag
Scoring:
Exact match ---> 50pts
1 place off ---> 25pts
2 places off ---> 10pts
3 places off ---> 1pt
>= 4 places off --> NADA
* In the event of a tie, the winner is the entry with the most exact match. If still tied, we'll move to a super secret tie-breaker game.
EXAMPLE OF ENTRY AND SCORE: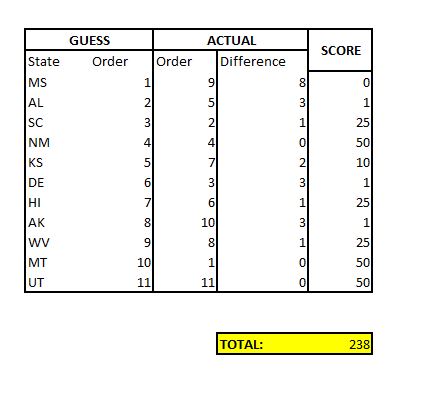 FAQ:
Can the same person win multiple prizes?
Yes. As long as they have multiple entries that are not duplicates, they are eligible to win multiple prizes. Prizes are awarded by the place that the
entry
comes in.
When is my entry due?
Technically,
there
IS NOT
a due date to enter. You may submit an entry (up to 3), as long as the contest is still active. The only consequence of waiting to enter is that as states are crossed off, points are taken off of the board. For example; if you submit an entry when only 9 states remain, you will not be eligible to earn points for the two states that were crossed off before your submission.
How do I submit my entry and entry fee?
The preferred method is an email to
[email protected]
. However, you may submit an entry any way that you can get ahold of me as long as it's prior to the deadline. This includes the contact form on our store site, Instagram message, etc. Payment can be submitted via PayPal or Venmo.
What happens if a state is crossed off between now and that entry deadline?
The state will simply be crossed off your entry and your rankings will be adjusted accordingly. For example; if you have Hawaii as 1st in your guess, but GTR has an order from there between now and Sept 5th, your remaining states will go up one rank (2nd place to 1st, 3rd to 2nd, etc.).
What if I win a prize that includes merch but you don't have my size?
If you won first place (sweatshirt), you may exchange for a $20 addition to your giftcard. Second place (tshirt) may exchange for a $10 gift card.
FULL STANDINGS --- Updated 3/22/23